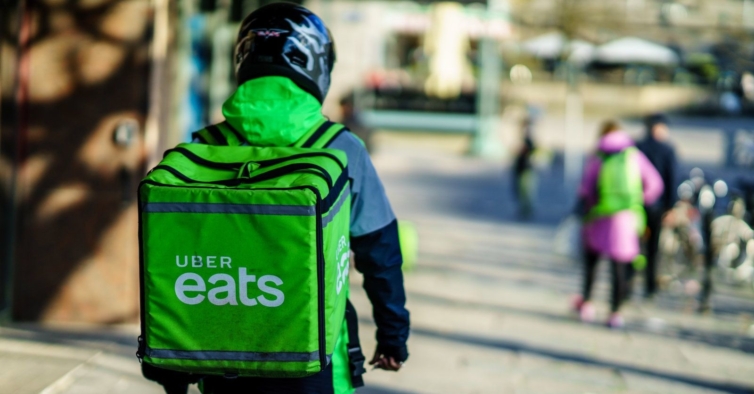 If you are currently looking for a flexible job, that will allow you to guarantee your earnings even if you have a busy schedule, this opportunity is just for you! Working with Uber Eats, you will be your own boss and choose how hard you how much and when you work. Check out below how does it work.
Uber Eats operates on-demand, as well as the common Uber transportation. If you have ordered online before in apps like iFood, SkipTheDishes, Tim Hortons, DoorDash, Foodora or Little Caears, you'll know how the system works. For this job, you only need to have a car, scooter, motorbike or bicycle. Once you've checked that box, you can start making money on the go with Uber Eats.
Another important point is that Uber Eats now welcomes the use of eligible overseas driver's licencies. So, if you are a foreigner looking for a job in Canada, now you'll be able to make your deliveries, provided that your method of transportation meets the eligibility requirements. You will be in charge of your daily goals, respecting your limit of time and effort.
At Uber, team members have diverse opportunities to grow within the company. With its commitment to help drivers, delivery partners, riders and eaters, the enterprise is present in over 10,000 cities all over the world, and you can be a part of this team anywhere you wish, as a manager, customer specialist, associate, or delivery personnel.
To be a Uber delivery worker, you will undergo a background check and you must have the right to work in Canada. You won't be required to work during specific hours, that means you can work only a few hours in the mornings, at night, or just on weekends if it suits you. Your earnings will be deposited weekly into your bank account.
Even though there is an ongoing vaccination program across the country, safety should still be your main priority. To ensure the drivers and delivery people can continue doing their essential job, Uber states that all safety measurements are being applied, to both passengers and workers.
If you are interested in being a part of this company and delivering the best meals for expectant customers, check out some of the job opportunities available at Uber and Uber Eats today:
Uber Expert, In-Person Support – Surrey/Vancouver Surrey, BC
Sr. Expert, In-Person Support – Ottawa, ON
Uber Expert, In-Person Support – Calgary Calgary, AB
Cornershop Acheteur d'épicerie & Livreur d'épicerie (Voiture requise) Quebec City, QC
Sr. Expert, In-Person Support – Mississauga Mississauga, ON
Account Representative, Montreal Montréal, QC
City Manager, Uber Eats Toronto, ON
Cornershop Grocery Shopper and Delivery Driver (Car Required) Vancouver, BC
Strategic Operations Manager (Uber Eats Canada) Toronto, ON
Account Representative, Toronto, Vancouver, Calgary Toronto, ON
Manager, Merchant Operations Toronto, ON, and more.
As stated in Uber's official website, some specifications may change according to the method of delivery you'll be employing. For motorcycle, car or scooter deliveries, you should have the proper license, as you can verify at the company's information section.
To access more than 40 currently vacant positions at Uber and Uber Eats, go to ca.indeed.com and search for "Uber Eats Delivery". You can also specify your area of choice to narrow the results of your search. Select the best opportunity and click on the subscribe button to send your curriculum and documents. Good luck!
Source: ca.indeed.com | Images: USA TODAY/ maris.co.uk